And so it began... our new normal.
Didn't we already have enough new normals this year? That's what we thought too. The doctors at Riley told us that pretty much every patient who had been diagnosed in the second half of 2020 had responded with something along the lines of, "Yep, sounds about right." (It's okay to find humor in this - laughter is the best medicine, as they say.)
So here we are, 25 years old, about 4 months into living together, and now facing a cancer diagnosis... during a global pandemic. Fun! In all seriousness, the week that Ryan was in the hospital was a roller coaster like I had never experienced before. Did we mention that it was also the week of the presidential election? Ryan, being the upstanding citizen that he is, made sure that someone from the election board came to the hospital with an absentee ballot. Add that to the list of things you don't think about until you're in this situation.
We talk about our blessings all the time. How we're lucky to live just five minutes from the hospital. That Ryan can get his care from such a fantastic team of doctors. That he has multiple medical professionals in his family to help make sense of all of this. That we have a huge support system of friends and family who are sending love from all over the country. Oddly enough, we're also grateful that we're at a point in the pandemic where we're already used to life at home and taking many extra precautions. This has made it so that our lifestyle hasn't completely changed overnight. But it has still been an adjustment.
As Ryan explained in his previous post, the induction phase lasts 5 weeks, with the goal being to eradicate all cancer cells from the body. After the first week at the hospital, he was able to continue his weekly treatments every Monday at the Riley Outpatient Center. Unfortunately, because of COVID, I'm not allowed to go with him to the appointments, so I just drop him off and pick him up. Luckily, Ryan is an excellent advocate for himself. He's really taken an active role in his treatment plan, which any good doctor would tell you is the way to get the best results possible. He's popular with his medical team, not only because he's always kind and easy-going, but because he's able to give them much more useful feedback than the kids and babies they typically treat.
So every Monday I drop him off and they go through the routine - checking his blood levels, doing a spinal tap, and giving him his doses of chemo. (One thing I have learned through this process is that chemotherapy is not just one drug - it's a combination of many different ones that can be taken via IV, injection, or orally.) The first couple of weeks went smoothly and Ryan was in great spirits, all things considered. Honestly, it was probably the best he had physically felt in months. However, the last couple of weeks ended up being pretty tough. Thanksgiving week was already a bummer since we made the decision to spend it alone due to the skyrocketing COVID numbers, and on top of that he started having quite a bit of neck pain that rendered him immobile for the week. BUT, we got through it by decorating early for Christmas, snuggling with Luna (my giant fluffy cat), eating delicious Thanksgiving meals delivered by sweet friends, and spending a lot of time on FaceTime and Zoom with our families.
So did it work?
That's the big question, right? And thankfully, it did. The cancer responded well to the chemotherapy and in the last two weeks they were unable to detect any blasts in Ryan's spinal fluid. Although this is obviously reason to celebrate, the road doesn't end here. The next phase is longer and more intense, and has already brought new routines and medications to navigate. One day and one week at a time is really all we can go by at this point.
How are you doing?
That's a question we get a lot these days, and truthfully, sometimes it's hard to know how to answer. Our daily routine now includes frequent temperature checks, mealtimes centered around Ryan's medicine schedule, reading endless literature on ALL, and conversations about who to tell and how much to tell them. We've joked that it feels like we're first years in college again and we're majoring in cancer studies. We even got a welcome week care package from the Leukemia and Lymphoma Society!
No one tells you what to expect when a diagnosis like this comes your way. No one tells you that when people ask how they can help, you won't have an answer. No one tells you that some days you'll want people to reach out and others you don't. No one tells you that even your best friends probably won't know what to say. Definitely no one tells you how to navigate a cancer diagnosis during a pandemic. Ultimately, every case is different and every person behind the diagnosis is different. What we do know is that we have to take it day by day. There will be days where we're overwhelmed by gratitude, and there will be days that just plain suck. The holidays this year won't be the same, but it is a little comforting that so many people are changing plans this year; at least we're not alone in that.
If you're reading this, thank you for taking the time. It truly does bring us comfort to know that we have people praying and sending healing energy from near and far. We're not sure how frequent these posts will be, but we'll try to keep you in the loop. In the meantime, hold your loved ones close (even if virtually!) and take care of yourself.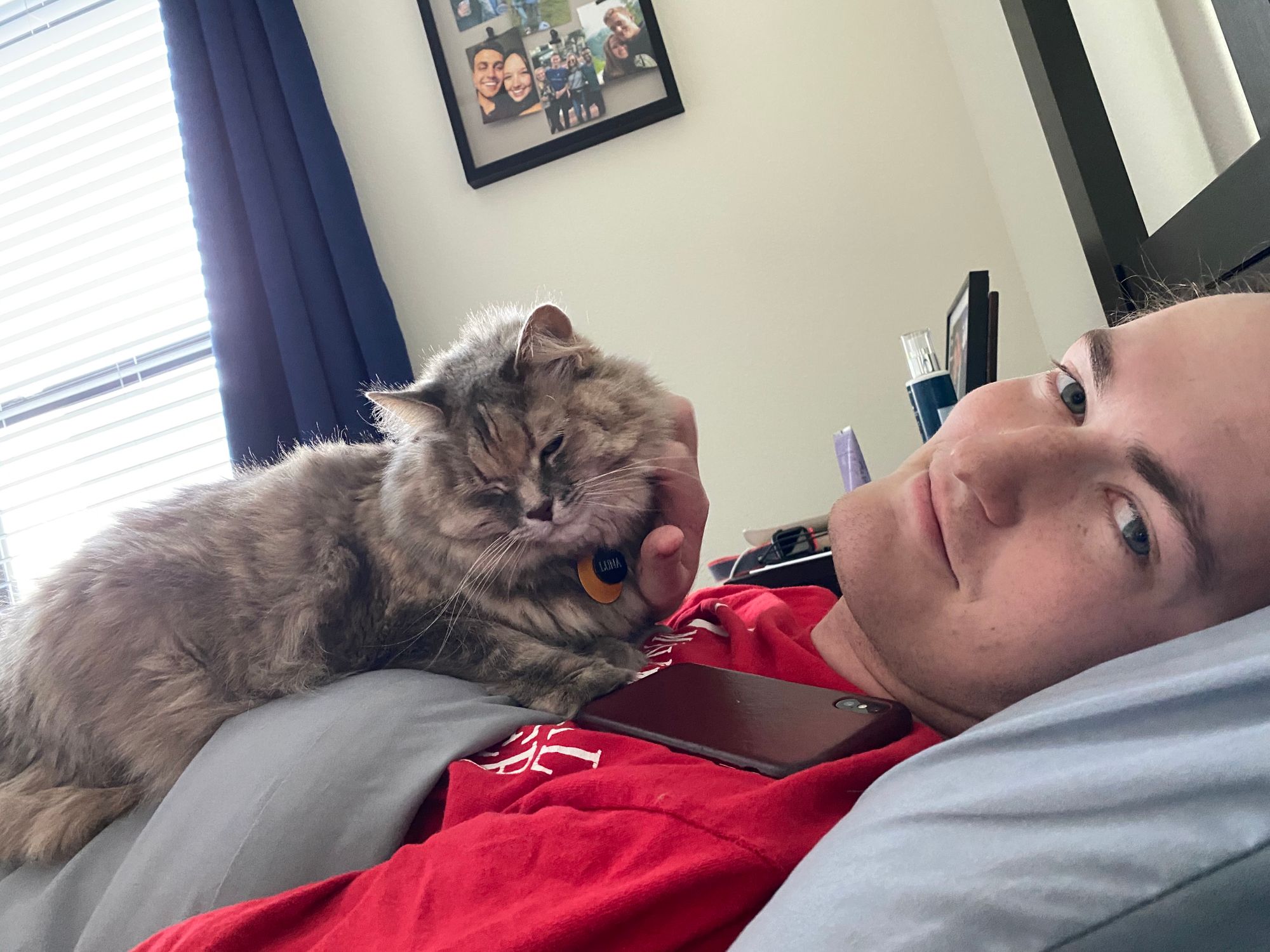 Continue reading here: https://givingitmyall.com/consolidation/